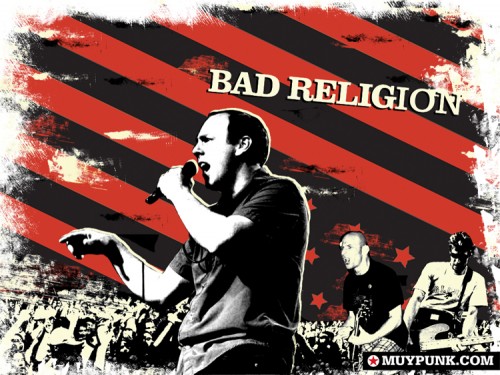 Kelompok musik Bad Religion merupakan salah satu grup kenangan saya semasa bersekolah putih abu-abu. Ketika saudara sepupu saya memutar lantunan lagu dari vokalis Greg Graffin, betotan bass Jay Bentley, dan hentakan drum Jay Ziskrout, saya menyadari bahwa saya telah jatuh cinta dengan mereka. Ada sebuah chemistry yang membedakan mereka dengan permainan grup musik punk lain. Saya pikir daya tarik tersebut berasal dari lirik-lirik mereka yang puitis, tertata dengan baik, serta memiliki muatan kritik yang cerdas. Sang vokalis sendiri, Dr. Greg Graffin, Ph.D. merupakan seorang profesor di UCLA yang mengajar sains secara paruh waktu. Jadi jika boleh berpendapat, mereka adalah kelompok musik punk yang terpelajar.
Lalu malam ini tak sengaja saya membongkar beberapa koleksi CD MP3 yang lama tidak terjamah dan menemukan mereka di antara puluhan keping yang tersusun rapi. Ingin rasanya untuk kembali mendendangkan lagu Against The Grain yang lama sudah tak terdengar dari speaker Simba saya.  Sebab itu, marilah kita bernyanyi bersama-sama:
Three thousand miles of wilderness
Overcome by the flow,
A lonely restitution of pavement,
Pomp and show,
I seek a thousand answers,
I find but one or two,
I maintain no discomfiture,
My path again renewed,
Against the grain,
Thats where Ill stay,
Swimming upstream,
I maintain against the grain
Here labelled as lunatic,
Sequestered and content,
There ignored and defeated
By the government,
Theres an oriented public whos magnetic
Force does pull,
But away from the potential of the individual,
Against the grain…..
The flow is getting stronger
With smaller increments of time and eddies
Of new ideas are increasingly hard to find,
You need all that the other has,
Your right to seize the day
But in all your acquisitions you will soon
Be swept away,
Against the grain……
Theres a common consensus
And an uncomfortable cheer,
A reverberating chorus that anyone can hear,
It sings leave your cares behind you,
Just grab tenaciously,
This lulling sense or purpose will
Destroy us rapidly,
Against the grain…..